Published: December 7, 2012
---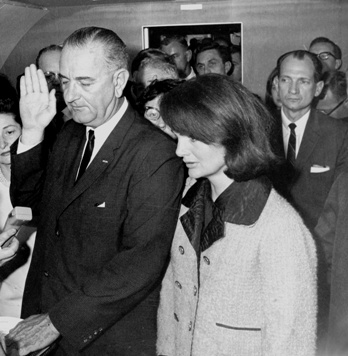 Former Texas Representative (D) Jack Brooks died this week.
Brooks led Massachusetts Senator John Kennedy's 1960 presidential campaign in his home district of Texas. After Kennedy's assassination, he was present for the swearing-in of Lyndon Johnson aboard Air Force One (just behind Jackie Kennedy on the right).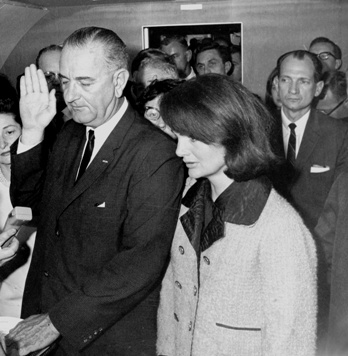 Brooks not only helped write Kennedy's signature Civil Rights Act, he was one of the few Southerners to vote for its passage in 1964 under the Johnson administration. In the 70s, he led an investigation that uncovered millions of dollars in public funds spent at the vacation homes of Richard Nixon, and during the Watergate scandal, he drafted the articles of impeachment that led to the resignation of the 37th president.
When it came to integrity, Brooks could be fierce and unmovable.
"[Brooks] was also a leader in the House investigation of President Ronald Reagan," the New York Times writes, "for trading arms for the hostages in Iran and using the proceeds to finance the right-leaning contra rebels in Nicaragua.
"After John M. Poindexter, Reagan's national security adviser, and Assistant Secretary of State Elliott Abrams testified to the judiciary committee about the Iran-contra affair, Mr. Brooks called each 'a lying son of a bitch.'
"Mr. Brooks's accomplishments included working to pass laws to revamp government procurement and to require federal agencies to have inspectors general. But he attracted more notice with his highly publicized investigations of the life of light bulbs, the number of coats of paint used on government buildings and airline pilots who let flight attendants fly jetliners.
"His sharp edge showed in an unsuccessful effort to impeach Reagan, not to mention in his refusal to allow Republicans at luncheons of the Texas Congressional caucus. He ostentatiously puffed his cigars in nonsmoking areas."
Former Representative Martin Frost called Brooks "…a symbol of a bygone era when Congress actually worked."
Frost said that his friend and colleague "was one of the gutsy members in 1956 who refused to sign the 'Southern Manifesto' condemning the Supreme Court's landmark school desegregation decision, Brown vs. Board of Education. This document was endorsed by 19 senators and 82 members of the House of Representatives. Jack was only in his second term when he took this principled stand.
"Years later," Frost recalls, "Jack did something else pretty extraordinary: he made it possible for the U.S. to rectify one of the darkest moments in our history.
"During World War II, Jack had fought against the Japanese in the Pacific. Our government, in one of the worst violations of human rights in our history, interned thousands of Japanese-American citizens in camps in the Western United States simply because they were of Japanese ancestry, even though there was no proof that any of them were disloyal to the United States.
"Two of the Japanese-Americans interned by our government as children were later elected to Congress to serve beside Jack — Reps. Norm Mineta and Bob Matsui, both of California.
"One day they approached me on the floor of the House and asked if I would talk to my fellow Texan about legislation dealing with the internment that was stuck in the Judiciary Committee that he chaired. The bill provided for a public apology by our government and for a $20,000 payment to each survivor of the internment.
"When I raised the issue with Jack, he gave a typically gruff response. 'Why should I do anything for the Japanese? They tried to kill me during the war.'
"But he did release the bill and it became law. He was a big enough man to help end one of the worst chapter's in American history."
"We could use a few more members like Jack Brooks today," Frost added. "He was tough, but he knew how to legislate. He knew when to hold 'em and he knew when to fold 'em."
---